Uploading
Summary
Uploading files in ResourceSpace is incredibly easy but it is at this upload stage that you will be ensuring that your Resources can found and used. It is key that you put as much relevant metadata into the resource fields as possible in order to make your resources useful and easy to find. See Common Mistakes to make sure you are doing it right.
Upload sequence
There are two primary ways of uploading files into ResourceSpace:
Setting default metadata first, then uploading the files
Uploading first, then setting the metadata for each resource
You can select the method you prefer under
My preferences > User interface
by changing the 'Upload sequence' option. You can change this at any time
Setting metadata first, then uploading
1. Navigate To Upload
Uploads will be accessed differently depending on your user rights and configuration, if you don't have one of the below options it is highly likely that you are unable to upload to ResourceSpace. Check with your administrator if you are unable to access Upload via one of the below methods.
If you have an "Upload" link in the top navigation bar - you just need to click on this to start uploading
If You have a "My Contributions" link in the top navigation bar - Click "My Contributions", then select "Upload Resources" to get to the upload page.
Your administrator will have set a system wide default for metadata to be uploaded either before or after resources, however, you can change the order of this for yourself in your "my preferences" menu. If adding metadata first, you will follow steps 1, 2, 3. If uploading the resource(s) first, you will upload then go to step 4.

2. Add Metadata to Uploads
Before you upload any files you will supply metadata to describe these resources. You may find that you have to upload resources in small batches or as individuals in order to get the right level of detail. Filling in as many of these fields as possible will help make your resources more valuable.
Before inserting any Metadata, ensure you select the correct resource type for what you plan to upload. There are Resource Type Specific fields available which won't display unless you select the correct resource type from the drop down box at the top of the upload form.
You may get further information on a field in order to help you fill it in:
Required * - The * denotes a required field
Help Text - Clicking on the entry field might open a hint box which can give you some quick information on the field
The Upload Options section gives you a couple of system specific data options. These may not appear automatically depending on your configuration but they are important to ensure that your upload works as you are expecting.
Choose whether to use Exiftool when importing your assets, this is a third party tool which is explained Here.
You may need to select a Status and Access permission for your resource. See Resource Status & Access for more information.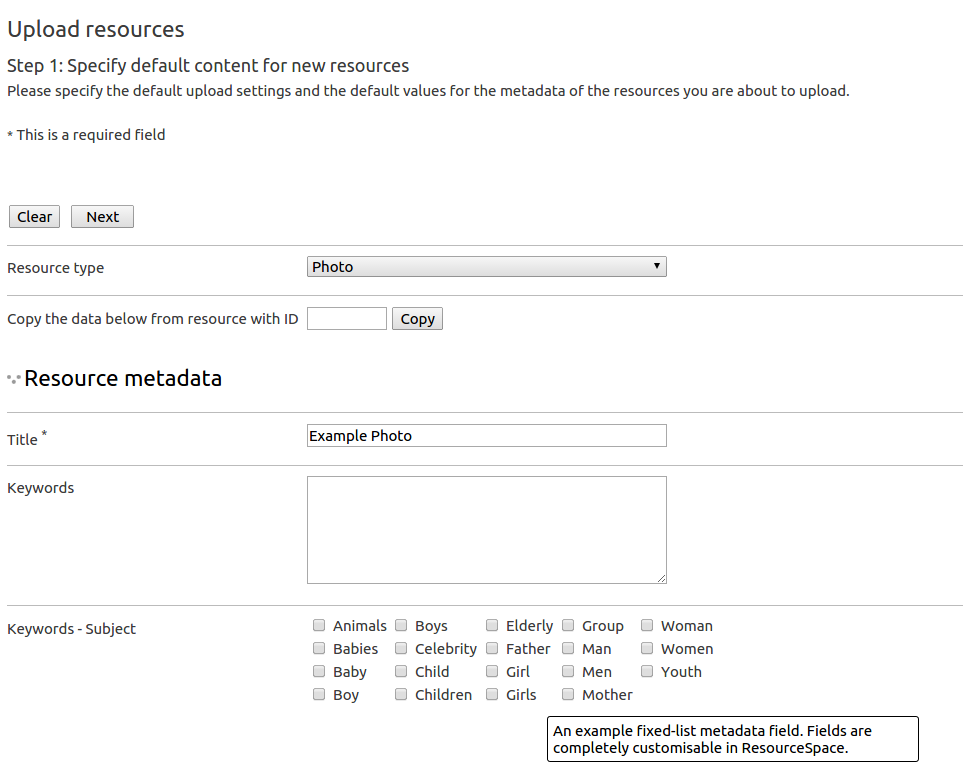 3. Uploading Files
Having given your resources some metadata and clicked "Next" you will be taken to the upload page. ResourceSpace primarily uses a web based upload agent to manage the upload process but there are also a number of Alternative Upload Methods. The web upload agent is easy to use:
Drag your files onto the upload list from your folders or browse for them using the "Add Files Button"
Once you have selected your resources, simply click "Start Upload"
Wait whilst the upload takes place. You can see a counter and a progress bar against each resource as it is uploaded
When the upload batch is complete, the upload list will be empty. Depending on your system set-up ResourceSpace may also be configured to do something once the upload has completed to help you use those resource

Uploading first, then refining metadata (upload review mode)
With this mode enabled you have the benefit of being able to see any embedded metadata that may have been extracted.
Please note: screenshot is from version 8.6+. Earlier versions do not have the upload options section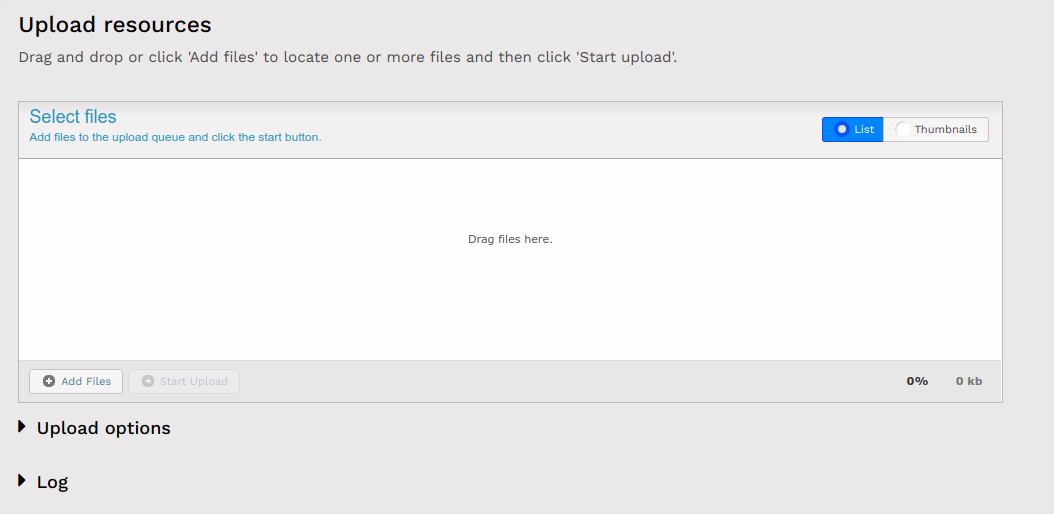 Check the required boxes to configure metadata extraction, rotate images and the option to relate resources (some options are configuration dependent)
Choose or create a collection to add the uploaded resources to or select "Do not add to collection"
Drag your files onto the upload list from your folders or browse for them using the "Add Files Button"
When you have selected your resources click "Start Upload"
Wait whilst the upload takes place. You can see a counter and a progress bar against each resource as it is uploaded.
When the upload batch is complete, you will be asked to review the metadata for each resource. Once you are happy with the metadata you can click on 'Save and Next'
In version 8.4 and later the ability to lock metadata fields is available, allowing you to enter data for a field once and copy that data to the next resource.
Also in version 8.4 and later is the ability to 'save and auto-next'. If you do not want to manually review all the subsequent resources you can choose 'Save and auto-next' and the resources will be automatically submitted. This is useful if you are happy with a combination of embedded metadata and locked fields. Where there are resources which cause errors, such as those missing metadata from a required field, you will be redirected to review these again at the end.

Common Mistakes
Uploading Too Many Resources at a Time - This often results in metadata being vague or generalised, which will not be helpful when searching as it will mean you are unable to be specific and separate out the resources you need.
Forgetting to clear the Upload Form - This means that data from the last upload will be carried over. If you are uploading similar resources it can be useful to reuse data you have filled in and just add further information but ensure that all the upload form data matches the resources you are uploading.
Not Using the Correct Resource Types - Uploading to the wrong resource type can cause problems as there are resource type specific metadata fields that might be required by the system but which are not completed, making both finding and concealing resources more difficult.
Exiftool Option Not Considered - If you haven't considered the Exiftool option, you may find that information from the form has been overwritten. If data is appearing that you didn't enter into the form on upload, you may be allowing Exiftool to run during upload.
Intending to Add Metadata After Upload - Although the intention is still there, in most cases, attempting to fill out metadata once resources have been uploaded will result in either a complete lack of metadata or missing metadata which will make your resources harder to find and less useful to other users of the system.
Uploading Simultaneously Using Multiple Tabs - Using multiple tabs to upload different batches of resources at one time can result in the metadata of one tab overriding that of the other, causing a mismatch in individual resource metadata. It is not advised to perform multiple uploads at once using multiple tabs. If you need to upload many resources at once with differing sets of metadata consider using the CSV Upload functionality.