ResourceSpace messages
Messages are used by ResourceSpace to ensure notifications are prominently displayed so important messages are not overlooked. As new messages are received, a counter next to the user's profile will increase to indicate the activity.

Clicking on the user icon will bring up the user's menu, within which, separate pills will indicate the corresponding number of messages and actions that make up the total count displayed.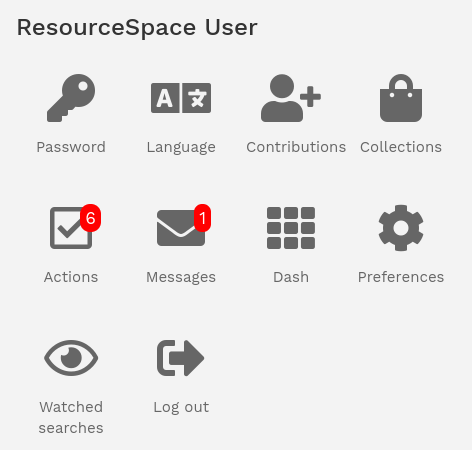 Managing your messages
On the Messages page you can manage all messages sent your user. You can mark messages as read or unread and delete them using the links at the top of the table when at least one message is selected.

Changing your messaging preferences
You can control which messages you receive by managing your 'Preferences' settings from the user menu at the top of the screen.
| | |
| --- | --- |
| Show me system notifications on screen as they are received. If disabled, the counter will still update to indicate the presence of new messages | This option is useful if you receive a lot of notifications and want to quickly check messages without having to navigate to the messages screen |
| Send me resource messages about resource management such as resource state or metadata changes | Enabling this will let you know when resources you have downloaded have been replaced. For administrators this will also enable notifications of user uploads if $send_collection_to_admin is enabled on the system |
| Send me messages about important system events e.g. low disk space | Administrators only. For information about important server events |
| Send me user administration messages e.g. new user account requests | To notify user administrators when a new account request has been made |
| Send me messages about resource access e.g. resource requests | This will send you messages when users request access to restricted resources |