Editing a collection
Having Created a collection, making changes to your collection allows you to extend the use of it beyond just a reference holder. The following options are available from the edit screen:
Name - Customise the name of your Collection by changing this value. The change won't take effect until you hit save.1
Description - Add a description to provide more information on the purpose or contents of the collection.
Related tags - Add tags to help find a collection of resources. This might help if this a collection of resources relating to one thing such as a construction project.
ID - This is the ID of the collection, it can be used with a Special search term to enable you to quickly retrieve resources within this collection.
Access - Changes the access level of this collection. You can select either Public or Private. See Public collections for more information.
Attached users - Allows you to share the resource with other users within the system by just adding them to this list. They can them quickly find and work with this collection.
Allow other users to add/remove resources - This permits other users in the system to make changes to this collection.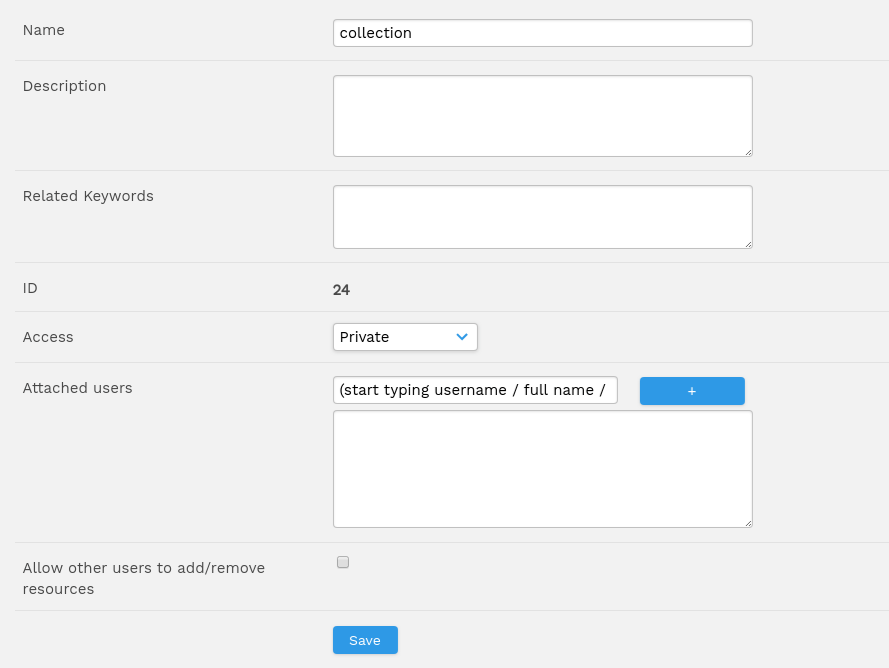 Collections and featured collections have a toolbar which allows users to:
Create a dash tile for that collection or featured collection category
Select the collection (Note: does not apply to featured collection categories)
Edit
1 You can choose to display collection names and descriptions when viewing the resources in a collection by enabling the option on the System Configuration page in the 'Collections' section