Simple Search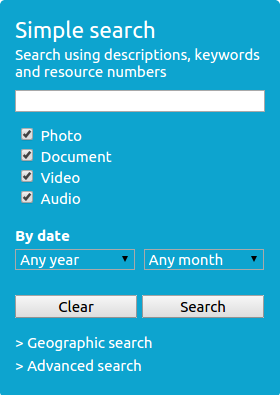 Quick and Simple Access to your Resources
The Simple Search panel appears to the right of every screen giving access to the ResourceSpace search engine. The panel has a text field for quick, free text searching across the whole library along with other search options, such as resource type and date.
The resources in ResourceSpace have been comprehensively categorised and the search engine is optimised to search through ALL indexed fields attached to each resource. You can type one word or many words to find resources. The search engine will then match ALL your words to the library and return the results that include ALL the words you've typed.
For example 'Africa water' will return only resources that contain both these words.
You can also exclude certain keywords when searching using the minus "-" sign. If you would like to search for all your spreadsheet resources that are not for testing purposes, you would search for "spreadsheet -test" (without double quotes).
Including additional fields, you can further refine your search and return more accurate results.
For example, searching for 'water' may find over 6000 resources but if you search for 'water' and select - Type: 'Video' - Date: '2005' you may find around 20 resources.
If ResourceSpace is unable to find any resources, it will attempt to suggest an alternative search to help you if it finds a suitable alternative which is viable and will yield results. Every single resource has a unique ID. If you know a particular resource ID you can go straight to it by typing that ID in the text box and clicking search.
The Advanced Search page is accessed directly from this panel, giving more options to refine and target your searches.
The example shown here is the standard simple search panel but this may be modified by your system administrator to make it as easy as possible for you to start searching.