Alternative Files
Resources are intended to be a single entity, however, sometimes it is necessary to store multiple versions together with a single set of metadata, this is when you need to use Alternative Files. Unlike Related Resources which allows you to link resources with a common subject or theme, Alternative Files allow users to search for one resource and easily access multiple variations of it from a single point. As well as storing versions of a resource together, Alternative Files can also be used to ensure a license or consent form is retained alongside the resource, a valuable aid in GDPR compliance.
It is important that you add information to the alternative files as it helps describe the file to people viewing the resource to ensure they choose the correct version for their needs.
How To Add An Alternative File
Browse to the Resource you wish to add the Alternative File(s) to,
Click "Manage Alternative Files" under Resource Tools,
Under "Add Alternative File" enter a Name for your alternative file and click Create.
Enter Information for your Alternative File and click Save.

How To Add Alternative Files (Batch)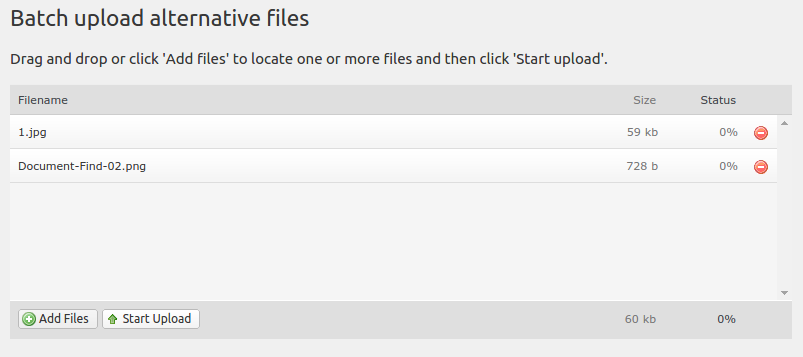 Like the main upload page, select the files you wish to upload by clicking "add files" and "start upload" when you are ready.
Browse back to the manage alternative files using the navigation at the top.
For each file you have uploaded, click edit on the row and specify information.
How to add resource and its alternative files (Batch)
You can upload a resource and all of its alternative files in one go. For this to work, your ResourceSpace system needs to be configured to look for a specific suffix at file names of the files uploaded. An example:

$upload_alternatives_suffix = '-alt';
All your files need to be renamed so they match the original file name plus the suffix in order that the system can recognise it as an alternative of that resource. For example, if we have a resource file named projectA.ext, all of its alternatives will need to be named projectA-alt.ext.
Note: when uploading, the first file MUST be the main resource otherwise ResourceSpace will be unable to find a resource ID to attach the alternative files to and the upload will fail.