Language Options
ResourceSpace has built a large international community with a wide range of supported languages. Your installation should be configured with the local language but the user has the option to change the language to suit them. ResourceSpace can detect and suggest the default language from your browser on your first visit to help get you started.
Changing Selected Language
You can change your visible language from a drop down option:
On the login screen
In the footer of a ResourceSpace page - click on the current language to display the list of options.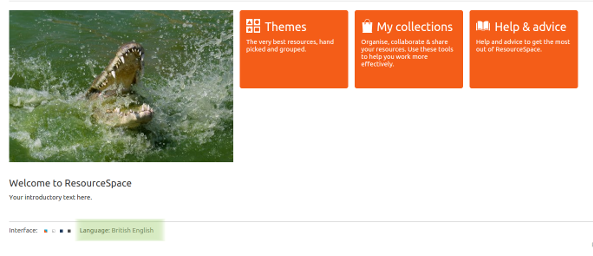 As well as British and American English, Languages Options are:
Arabic
Catalan
Chinese (Simplified)
Croatian
Danish
Dutch
Finnish
French
German
Greek
Indonesian
Italian
Japanese
Norwegian
Polish
Portuguese
Portuguese (Brazilian)
Russian
Spanish
Spanish (Argentine)
Swedish
Setting this option will change the language across the site for your user account. ResourceSpace makes use of cookies to track this information so that your preferences can be persisted.