User Communication
Communicating with your users is important to ensure everyone is using ResourceSpace to its full potential and getting as much out of the system as they can. Users will often need to contact administrators for specific tasks, most commonly are Resource Requests which are requests for download access when a resource has been restricted to users.
There will also be times when you will need to contact a user or a usergroup or even a system-wide contact. For this purpose you should use Bulk Email, available from the Admin menu.
Using Bulk Email
Emails sent in this way will be formatted using a customisable standard email format allowing you to add the proper branding and information to make your email official.
Add Recipients - You can enter a username, full name or group name into this box and it will look in the system to provide suggestions. Just select the intended recipient(s) and then click the + button. You can add as many as you want and they will appear in the box below the Entry field.
Enable HTML formatting - This allows you to add HTML tags into the email to format it in a particular style.
Email Subject - This will then populate the email subject field
Email Text - This is the content that you wish to include, including any greeting. Branding will be included automatically from a customisable email template to ensure your email conforms whilst you just worry about the content.
Send - Having finished and checked your email, click the send button at the bottom of the page.
Bulk Mail Form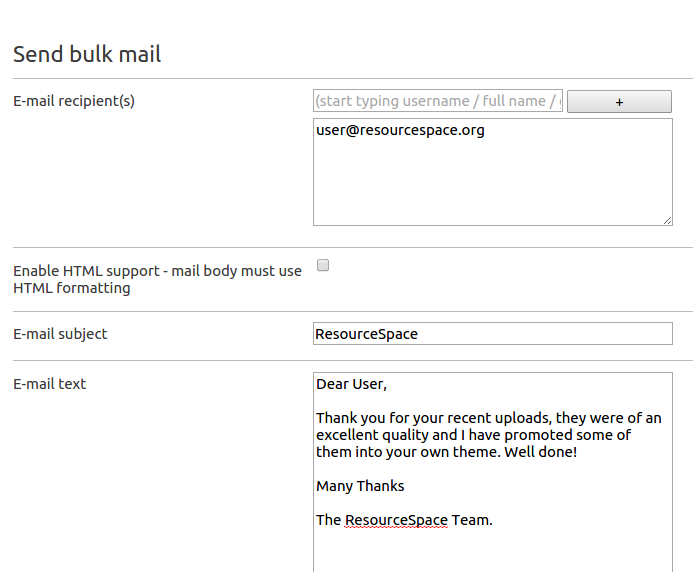 Example Email