Adobe link
This plugin allows you to import files from ResourceSpace directly into Adobe InDesign and Photoshop. Once the plugin is configured Adobe InDesign/Photoshop users are able to access ResourceSpace from within the software. Any download links for file types that can be imported will be replaced by 'Import' links.
Enabling the adobe_link plugin
Install the Adobe CC plugin on the PC/Mac running Adobe CC
Please note: if you are upgrading the plugin with a later version, please follow the uninstall steps described below
Download 'Anastasiy's Extension Manager' from https://install.anastasiy.com
Download DAMConnect.zxp (zipped) from here
Run Anastasiy's Extension Manager
Click on Install and browse to select the downloaded DAMConnect.zxp file. The plugin will now install. Follow any prompts as required.
Restart Adobe InDesign
Click on Window > ResourceSpace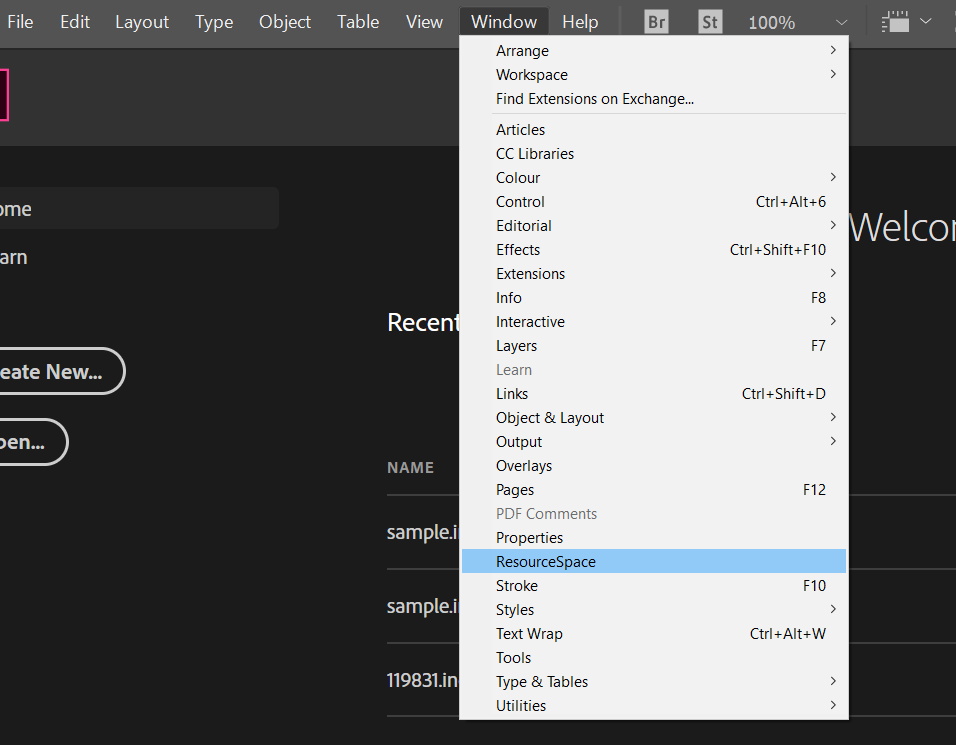 Click on the menu icon and select 'Settings'
Under 'Enter Server URL' enter the full path to your ResourceSpace installation e.g. https://myorganisation.resourcespace.com

Select the local download folder that imported assets will be stored in
Click 'Apply'
Enable the adobe_link plugin in ResourceSpace (system administrator)
Log in to ResourceSpace
Navigate to Admin > System > Plugins and enable the adobe_link plugin under 'Integrations'
You can customise which file types can be imported into Adobe InDesign by clicking on the options link and editing the comma separated list of file extensions for both assets and Adobe document formats. Please note that the file extensions should be added in lowercase.
Using the plugin - Indesign
To import an asset, e.g. a jpg or png resource file
Open Adobe InDesign
Click on Window > ResourceSpace
Log in to ResourceSpace if necessary
Locate the required resource
Click on the 'import' link against the image size you wish to import
The image will be copied to InDesign. Note that if you already have a document open you will need to return to the document to see the copied file
To open an Adobe document from ResourceSpace in InDesign
Open Adobe InDesign
Click on Window > ResourceSpace
Log in to ResourceSpace if required
Locate the required resource
If you plan to edit the file and save it back into ResourceSpace, click on 'Lock' to prevent other users from editing the resource while you are working on it
Click on the 'Open' button for the original resource file
The document will be imported to InDesign
To save an InDesign document back into ResourceSpace
It is very simple to save a InDesign document into ResourceSpace
Edit the InDesign file as required
Save the file in InDesign as normal
Click on Window > ResourceSpace
Locate the relevant InDesign resource to replace
On the resource view page, click the 'Save' button next to the 'Open'button
Wait for the confirmation message that the file has been uploaded (for large files this may take some time)
If you have previously locked the resource, make sure you remember to unlock it so that others can make changes if required
The preview images in InDesign may take some time to refresh, depending on server configuration. The resource log in ResourceSpace can be checked to ensure the file has been successfully replaced
To Change the ResourceSpace URL used by Adobe InDesign
Open Adobe InDesign
Click on Window > ResourceSpace
Click on the menu icon and select 'Settings'
Under 'Enter Server URL', enter the new path to your ResourceSpace installation
Click 'Apply'
Using the plugin - Photoshop
To import an asset, e.g. a jpg or png resource file
Open Adobe Photoshop
Create or open a Photoshop file
Click on Window > Extensions > ResourceSpace (or Window > Extensions (legacy) > ResourceSpace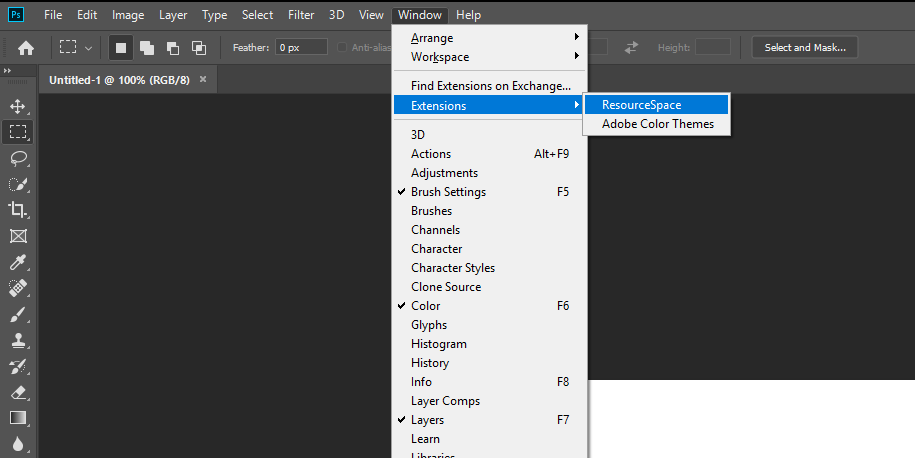 Log in to ResourceSpace if necessary
Locate the required resource
Click on the 'import' link against the image size you wish to import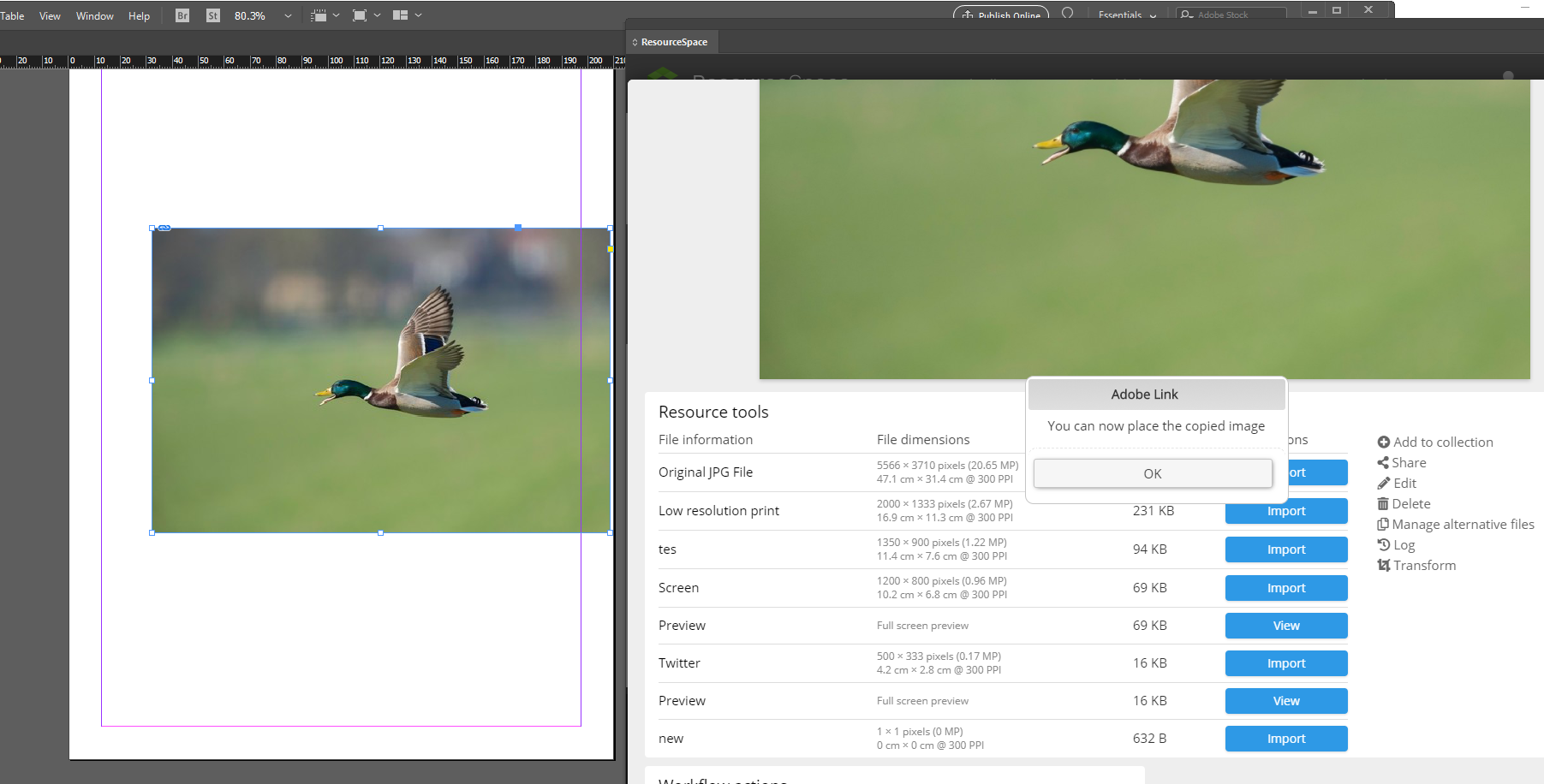 The image will be copied to Photoshop. Note that if you already have a document open you will need to return to the document to see the copied file
To open an Adobe document from ResourceSpace in Photoshop
Open Adobe Photoshop
Click on Window > Extensions > ResourceSpace
Log in to ResourceSpace if required
Locate the required resource
If you plan to edit the file and save it back into ResourceSpace, click on 'Lock' to prevent other users from editing the resource while you are working on it
Click on the 'Open' button for the original resource file
The document will be opened in Photoshop
To save a Photoshop document back into ResourceSpace
It is simple to save a Photoshop document into ResourceSpace
Edit the Photoshop file as required
Save the file in Photoshop as normal
Click on Window > Extensions > ResourceSpace
Locate the relevant Photoshop resource to replace
On the resource view page, click the 'Save' button next to the 'Open'button
Wait for the confirmation message that the file has been uploaded (for large files this may take some time)
If you have previously locked the resource, make sure you remember to unlock it so that others can make changes if required
The preview images in ResourceSpace may take some time to refresh, depending on server configuration. The resource log in ResourceSpace can be checked to ensure the file has been successfully replaced
To Change the ResourceSpace URL used by Adobe Photoshop
Open Adobe Photoshop
Click on Window > Extensions > ResourceSpace
Click on the menu icon
Under 'Enter Server URL', enter the new path to your ResourceSpace installation
Click 'Apply'
Uninstalling the plugin from Adobe Creative Cloud suite
If you experience issues and want to uninstall the plugin from Adobe CC, or if you want to replace the plugin with a later version:-
Using Anastasiy's plugin manager
Close all Adobe CC programs
Run Anastasiy's Extension Manager
Select com.DAMConnect
Click Uninstall and wait for confirmation
Manual removal
Close all Adobe CC programs
(Windows) Navigate to

[Program_Files folder]\Common Files\Adobe\CEP\extensions

(Mac) Navigate to

Library/Application Support/Adobe/CEP/extensions

Delete the folder named 'com.DAMConnect'
Launch InDesign and Photoshop to ensure the plugin is no longer present
If the plugin still appears, try the following:-
(Windows) Restart InDesign and quickly press Shift+Ctrl+Alt. Click Yes when asked if you want to delete preference files
(Mac) While pressing Shift+Option+Command+Control, restart InDesign. Click Yes when asked if you want to delete preference files