MuseumPlus (9.1+)
MuseumPlus is a Web-based Museum Management system providing real-time museum management and fully documents any type of collection and all related workflow.
API details
The API details are required so ResourceSpace can successfully communicate with the MuseumPlus server through its API.
It is important to fill in the Mplus field that is storing the MpID (on MuseumPlus). ResourceSpace will be searching specifically within this field when trying to get the data for a record.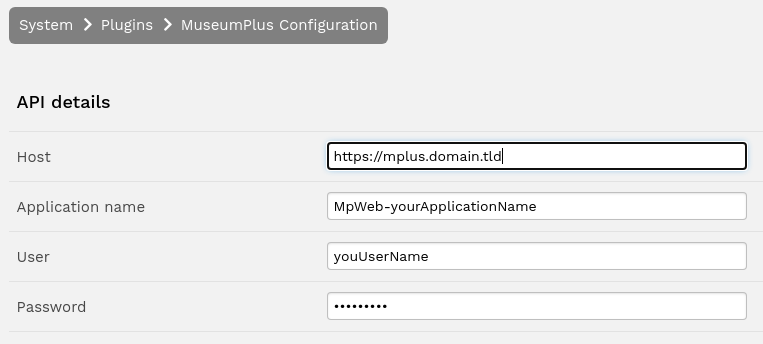 ResourceSpace settings
Here admins need to decide what field in ResourceSpace will be storing the MuseumPlus identifier (MpID) and which resource type can be synchronised with MuseumPlus.

Script settings
The sync script can be disabled from here if required but by default it is enabled and will run everytime the cron script will.
You can specify an interval at which ResourceSpace can run the script. Because this is likely to take a long time, developers suggested using anything above 1 day. Example: +3 day will mean the script will run at 3 days intervals.
If you want log files to be stored on the server, you will need to set a full path to the location of the logs. The museum plus script will output to the standard output.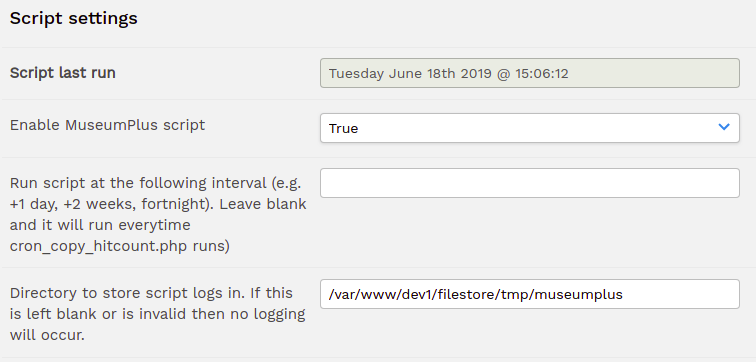 MuseumPlus - ResourceSpace mappings
The mappings between a record in MuseumPlus and a ResourceSpace field is done by mapping the a virtual field from the Object module and the field itself (in ResourceSpace).
To add new empty rows, click on Add mapping. Once you are happy with your setup, click on Save configuration.