Video splice
The video splice plugin allows users to merge video resources within ResourceSpace to create a new file. To do this you will need to:
Build a collection with the videos in that you would like to combine
Click the "Splice" link in the collection bar or from the "Manage My Collections" page.
Reorder the videos in the film strip by dragging and dropping each icon, this will also update the collection order thereby saving your progress.
Delete unwanted videos by clicking remove in the collection bar.
Click Splice to complete the action. This might take a while particularly with large numbers of videos or large/long videos.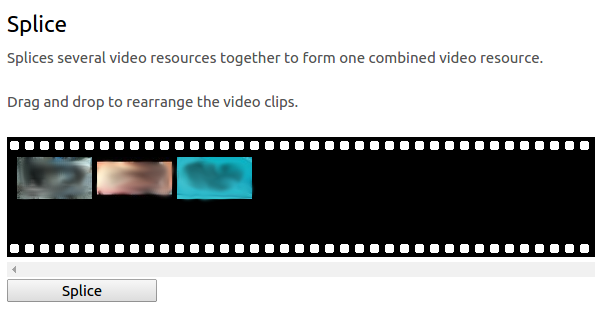 Cutting video segments
The plugin also allows you to cut segments of the video to be saved as alternative files attached to the resource. In the Resource Tools area you can click the Cut button to allow you to choose the start and end points of the video to be cut.