Version 8.3: with new search & workflow functions, and Google compatibility
1st November 2017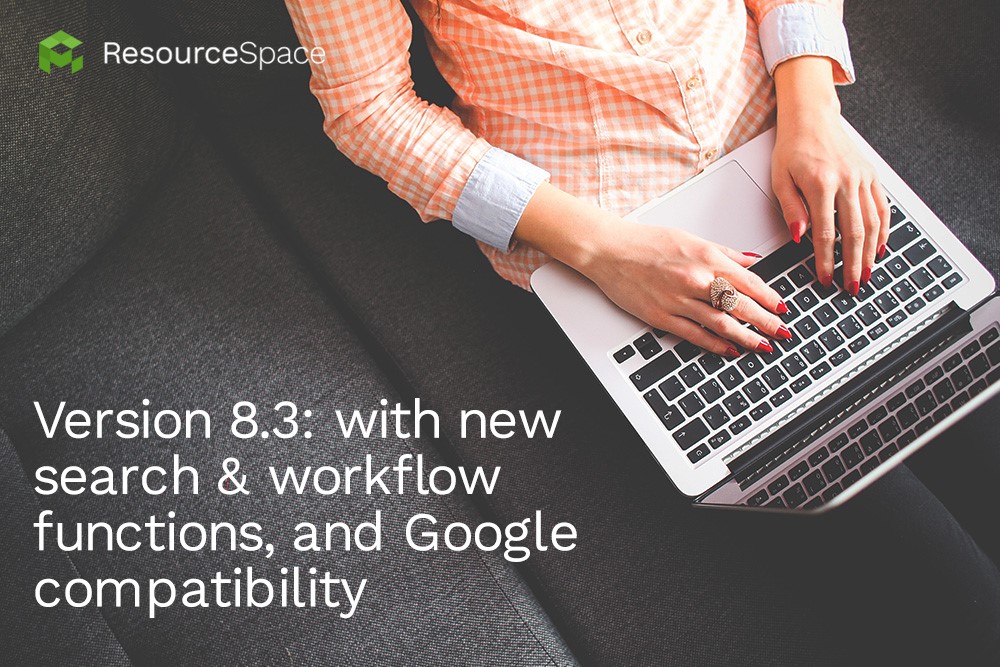 We're constantly striving to ensure our free and open source software stays pioneering in the DAM industry (whether that's open source or proprietary software), which is why we're delighted to announce the release of ResourceSpace version 8.3.
Here are some of the highlights of our latest software update, to enhance the way leading companies manage their digital media assets:
New search and workflow functionality
For version 8.3, we've added two further features that make ResourceSpace even more helpful for users.
The first is a watched searches function, which allows users to subscribe to particular searches and receive a notification when a new match occurs. This way, they will always be in the know when a relevant asset is uploaded or updated.
In addition, we've added an advanced workflow plugin, which enables core users to adapt standard workflow processes to the bespoke needs of their organisation. It allows for a great deal of control over asset processing, including who can assign and edit workflow action.
Now compatible with Google accounts
Another feature of ResourceSpace version 8.3 is that our DAM software can now be accessed using your Google account, thanks to our new Google OAuth plugin.
Social media sharing options
ResourceSpace version 8.3 users can also benefit from a new function that allows resources to be shared across social media sites including Facebook, LinkedIn and Twitter.
Even better look and user experience
In addition to adding new functionality, we've also made some updates so that existing features are even easier to use.
These include:
Revamping the Featured Collections area so users can now create new categories directly from the folder, use background images, and benefit from new styling changes
Select file sizes in either binary or decimal mode
Break down results by resource type in the analytics section
Simplifying the forms and resource results with a new, modern look
Improving the navigation layout for ResourceSpace mobile device users
For further information on the updates included in version 8.3, please visit https://www.resourcespace.com/versions
Get started with ResourceSpace version 8.3
To experience how our refined ResourceSpace platform version 8.3 can help your organisation manage digital media assets more effectively, try our free trial system.
For full information on the features and benefits of our DAM software solution, visit our product features page.