You can now use the digital assets stored in ResourceSpace to let your team create new, on-brand marketing materials like posters, social graphics or even point of sale material.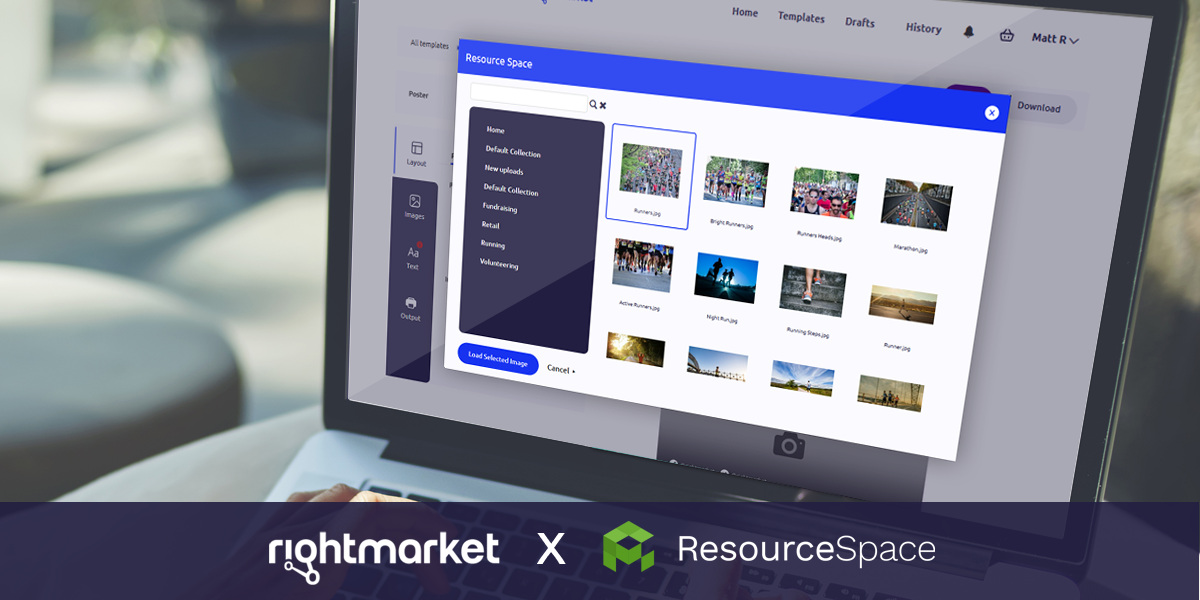 What is RightMarket?
RightMarket Online Brand Centres enable anyone in your organisation to create brand approved, compliant, agency quality designs from a web browser.
Your time is better spent on genuine marketing projects rather than routine marketing requests. With RightMarket you get your time back to concentrate on more rewarding work that builds brand value.
Businesses such as Just Eat, Bluebird Care and Banana Moon Nurseries use RightMarket to create hyper-local campaigns, branded collaterals and flexible advertising. Charities like Parkinsons UK, Mencap and Sue Ryder use RightMarket to create everything from fundraising materials to social graphics.
Over 30,000 on-brand designs are created every month using RightMarket.
How does RightMarket integrate with ResourceSpace?
Linking your ResourceSpace DAM with RightMarket takes less than a minute and simply requires the API credentials of a single user of ResourceSpace.
Once integrated, any RightMarket design can be setup to search or browse image assets from your ResourceSpace DAM.
Stay on brand. Ensure only brand approved imagery is used to produce marketing materials.
Do more marketing, faster! Safely put your digital assets into the hands of those that need them the most.
Keep compliant. Ensure only permission approved imagery and up to date versions of content are used in marketing.
Why use RightMarket?
If you find yourself getting bombarded with requests for routine marketing projects or notice off-brand, "DIY" artwork being used then you probably need RightMarket.
RightMarket Brand Centres give your team the ability to create marketing assets like social graphics, posters or product sheets (any kind of artwork) whenever they need them.
Templates on RightMarket are designed specifically for you, from your existing artwork. Your templates only allow for structured changes that you define. Colours, logos and typography rules are embedded into the template so users can't get it wrong. With Tone of Voice capability you can even specify any words or phrases you want to avoid and the system will suggest alternatives instantly.
You dramatically reduce the costs of creating marketing too. By letting people self-serve the artwork they need it cuts out unnecessary designer/agency costs and reduces the internal effort from hours of email threads to just a couple of minutes per design.
How do I find out more?
Book a quick online demo to explore the system and see how other brands are using RightMarket.
You can also book a complimentary Project Discovery session to get a tailored quote specifically for your requirements.