Resource Tools Compact View
This plugin simplifies the appearance of the resource view page by using expandable sections for download and share options and another for further options, such as edit, add to collection and transform. It also conceals the resource metadata with a More Information link for a more compact resource view.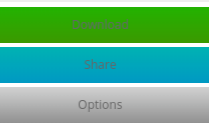 Plugin options allow a caption to be displayed beneath the resource, extracted from a selected metadata field.
Group access settings mean the compact view can be enabled on a per user group basis.